Taos County is ranked second on the list of U.S. counties most densely populated with working artists –  out-ranked only by Kings County, New York, home of Brooklyn. Taos is a place where artists live, work, find inspiration – a vibrant art community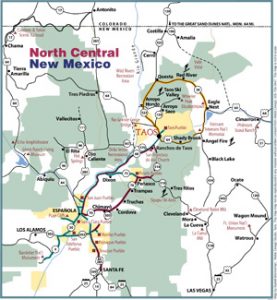 Beyond Taos Art Calendar is centered on art in the Town of Taos but there is plenty of creativity in neighboring communities within Taos County and in Colfax, Tierra Amarilla, Aztec and Rio Arriba counties. Here are brief introductions (and links to learn more) to each BeyondTaos art community.
Click to view PDF of North Central New Mexico
View map of Taos Historic District
View map of Taos streets
View map of Taos County
  TAOS
Taos is an artist's colony with a 400-year-old Spanish heritage and 1,000-year old American Indian culture. This tri-cultural blend creates a unique community of regional foods, arts, celebrations, and lifestyles. Taos is 70 miles north of Santa Fe, capitol of New Mexico. Elevation: 6,952 feet; Population: 5,710 town, 32,947 county (2010).
Visit the Taos tourism website and Taos Arts Council website.
  TAOS SKI VALLEY
Originally called Twining when it was settled by a group of hearty and adventurous miners in the 1800s, Taos Ski Valley Resort is now a world-famous ski area and the highest incorporated community in the state of New Mexico, at 9,200 feet elevation (base). It has the highest peak in the state, Wheeler at 11,214 feet. The village is 19 miles northeast of Taos Plaza.
Visit Taos Ski Valley Chamber of Commerce website and the ski resort website.
  TAOS PUEBLO
Taos Pueblo is the only living Native American community designated both a World Heritage Site by UNESCO and a National Historic Landmark. The multi-storied adobe buildings have been continuously inhabited for over 1,000 years. The Pueblo is 3 miles northeast of Taos Plaza at an elevation of 7,112 feet. Its population is approximately 1,300.
Visit the official Taos Pueblo website
  RED RIVER
Fur trappers and prospectors put River City on the map in the 1800s. The gold, silver and copper mines eventually played out and homesteaders replaced prospectors by the late 1920s. The town has a distinctive cowboy flavor. It's also a popular ski and outdoor recreation vacation destination. Red River is 46 miles north of Taos Plaza, on the Enchanted Circle. Its base elevation is 8,650 feet and has a year-round population of about 500.
Visit the Town of Red River website.
  QUESTA
Questa is the northern gateway to the stunning Rio Grande del Norte National Monument. Its founders included crypto-Jewish families, German merchants and French trappers. In the mid-1800s, a walled plaza was built around the San Antonio del Rio Colorado church, which remains the center of this rural community. Questa is 25 miles north of Taos on NM Highway 522. Elevation 7,461 feet; population 1,770.
Visit Questa Village website and Questa Creative Council website.
  ANGEL FIRE
The Moreno Valley was long ago home of Ute and Apache Indians. Spaniards visited the area as early as 1540. In the 1950s, the Lebus family of Texas purchased 23,000 acres and began to develop a resort community. In 1986, Angel Fire was incorporated as a state municipality. The village, which includes a ski resort and golf course, is 23 miles east of Taos with an elevation of 8,382 feat and population of 1,216.
Visit Angel Fire Visitor Center website , the ski area's website and ARTup in Angel Fire.
  SIPAPU
Sipapu was founded in 1952 by Lloyd and Olive Bolander as a family ski resort and summer camp. It is surrounded by the Sangre de Cristo Mountains and Carson National Forest and is known for its unspoiled character and rustic charm. Sipapu is 24 miles southeast of Taos at an elevation of 8200 feet.
Visit Sipapu's website.
  GHOST RANCH in Abiquiu
Located on the Chama River, Abiquiú was founded by Spaniards in the 1700s. It was built on top of the ruins of a prehistoric Tewa pueblo and is surrounded by stunning red rock terrain made famous by Georgia O'Keeffe. Ghost Ranch educational center offers over 300 courses annually.  75 miles west of Taos at an elevation of 6,500 feet and a population of 230.
Visit Ghost Ranch's website.
  OJO CALIENTE
Ojo Caliente Mineral Springs is one of the oldest natural health resorts in the country. The area is the site of several prehistoric pueblos and hot springs that include four different types of mineral waters which have flowed from a subterranean volcanic aquifer for thousands of years. Ojo is 39 miles southwest of Taos at an elevation of 6,983 feet. Population is 1,132.
Visit Ojo Caliente's website.
  HIGH ROAD TO TAOS ART VILLAGES
This 56-mile route meanders through many Spanish towns and two pueblos, Nambé and Picuris. Several historic churches are situated along the route, including Santuario de Chimayo on the south end of the bypass and San Francisco de Asis Mission Church on the northside in Ranchos de Taos. The villages of the High Road: Nambé, Chimayo, Córdova, Truchas, Ojo Sarco, Las Trampas, El Valle and Ojito, Chamisal, Picurís, Peñasco, Llano San Juan and Llano de la Yegua, Vadito, Talpa, Ranchos de Taos.
Visit High Road Artisan's website.
  FARMINGTON
This is the largest town in northern New Mexico and has all the amenities of a big city – hospitals, parks, shopping centers and many art facilities. It is located on the Animas River in the Four Corners area, adjacent to Colorado, Utah and Arizona. It is heavily influenced by the Native American culture of the Navajo Nation. Farmington is 200 miles west of Taos at an elevation of 5,395 feet. Its population is 41,000.
Visit Farmington's tourism website.
  CHAMA
Chama sits at the base of 10,000-foot Cumbres Peak in the Rio Chama Valley. Indigenous peoples have inhabited the area for at least 1,000 years. The 130-year-old narrow gauge Cumbres & Toltec Scenic Railroad is stationed here. Chama is 67 miles west of Taos at an elevation of 7,871 feet. Its population is approximately 1,500.
Visit Chama Valley Chamber of Commerce website, the tourism website, and Cumbres Toltec Scenic Railroad website.